Perpetual Light Fund Winner 99
Taung Ywar Thit Village, of Myanmar (Burma), Winner of the $50 Microenterprise Fund (July 2014) ($50 Loan)
This Light Award is sponsored by Pray Online Now and processed through Kiva.org.
Located in Central Myanmar's Yasagyo Township, this community currently has 30 village customers, including 6 CBO (Community Based Organization) committee members who help to lead the loan program in the area. This village is located in Myanmar's dry zone, where insufficient rainfall is very common. Most villagers are Buddhist and struggle finding access to affordable credit, as the state-owned agricultural bank is not active in the area.
The new loan will enable this community to raise livestock, which is a crucial supplement to crop income, given the variability of harvests in this region. One small goat costs $80 to purchase and can be sold for $150, a $70 profit, after nine or ten months.
Raising livestock is also very helpful to farmers because animal manure is used as fertilizer to improve soil conditions, meaning that they do not have to pay for expensive chemical fertilizers. Additionally, many villagers will cultivate toddy palm trees to sell palm sugar, and many women will set up small grocery stores in their homes to generate supplementary income.
Pictured above are the committee members from the village CBO: U Chan, Daw Mi, Daw Nyunt, Daw Mar, U Phoe, and U Sann. Included in the photo (second from the right) is U Phoe, who is married and has four children. Two of his children are still studying at a monastery school in a nearby village. He is raising about 30 goats on his farm and will use his new loan to purchase more small goats.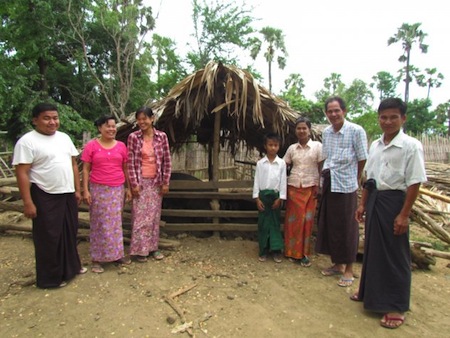 Congratulations to Taung Ywar Thit Village in Myanmar (Burma)..!
For more information about other light workers, light resources, and light tools, see the navigation over to your left. Or learn more about the Perpetual Light Fund.
Learn more about Online Prayer Request and get Energy from Around the World!
Potential Light Fund Recipients, keep sending your info. You may be next!
Christopher
Copyright Christopher Westra