Perpetual Light Fund Winner 98
Raissa, of the Republic of Congo, Winner of the $50 Microenterprise Fund (June 2014) ($50 Loan)
This Light Award is sponsored by Pray Online Now and processed through Kiva.org.
Raïssa is a micro-entrepreneur from Brazzaville, Republic of Congo. The leader of a subgroup of nine other micro-entrepreneurs in the community bank group Christ Vivant 3 (2), Raïssa is currently on her third loan cycle with HOPE Congo. Raïssa has a small business making and selling fou-fou, a traditional Congolese staple starch made from ground cassava root. She also sells various grocery items at her market stand. With a small loan of 400,000 CFA, Raïssa will be able to purchase additional bags of cassava flour to make into fou-fou.

Little by little Raïssa hopes to increase her savings and grow her business activities. One day she dreams of being able to stand on her own two feet and eventually pass on her business to her four children.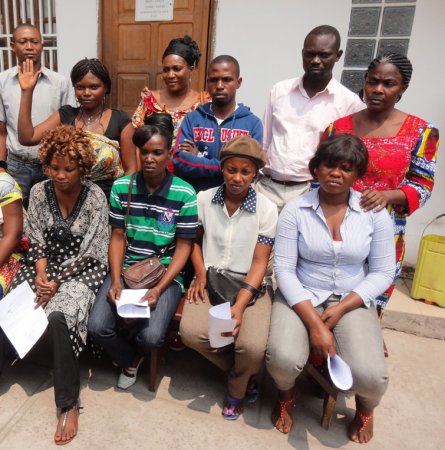 Congratulations to Raissa (hand raised in photo) in the Republic of Congo..!
For more information about other light workers, light resources, and light tools, see the navigation over to your left. Or learn more about the Perpetual Light Fund.
Learn more about Online Prayer Request and get Energy from Around the World!
Potential Light Fund Recipients, keep sending your info. You may be next!
Christopher
Copyright Christopher Westra