Perpetual Light Fund Winner 90
Mabinty, of Sierra Leone, Winner of the $100 Microenterprise Fund (October 2013)
This Light Award is sponsored by The Online Holographic Creation Sheet and processed through Kiva.org.
Meet 32-year-old Mabinty from Tombo eastern area in Freetown. She is married with 3 children who are currently attending school. Mabinty established her local food business. She began her business because she wants to generate income to take care of her family. She works at the business 7 days per week. She says that the main challenge to her business is transportation problem within her operation area.

Mabinty requires a loan in order to purchase more groundnut to expand her business. She hopes that the extra income from this loan will allow her to educate her children, and increase her business. In the future, Mabinty plans to expand her business to a higher level. She thanks you for your support.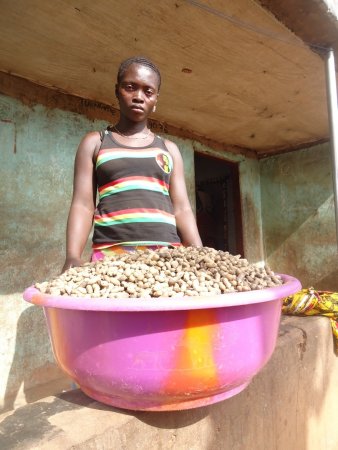 Congratulations to Mabinty in Sierra Leone..!
For more information about other light workers, light resources, and light tools, see the navigation over to your left. Or learn more about the Perpetual Light Fund.
Learn more about Holographic Belief Replacement and get Powerful New Beliefs.
Potential Light Fund Recipients, keep sending your info. You may be next!
Christopher
Copyright Christopher Westra