Perpetual Light Fund Winner 77
Cintia Gissella of Ecuador, Winner of the $100 Microenterprise Fund (September 2012)
This Light Award is sponsored by Positive Emotions List, and processed through Kiva.org.
Cintia lives in the canton of Playas. She is 25 years old and is single. Since she does not have children, she decided to look for work in order to be able to study and better herself. As time passed and she did not find an opportunity to get ahead, she decided to put together the money to start her own business. She decided to sell seafood, and little by little her business has grown to the point where she now has a good customer base.

Everyday she gets up at 6 a.m. and goes to her stall which is located near the seafront boardwalk. Here her products are well known for being fresh.

With this loan she will buy various showcases and freezers. Her goal is to grow her business and to put together the capital necessary to open another seafood business.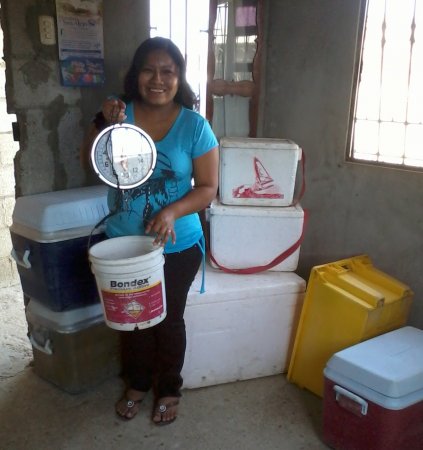 Congratulations to Cintia..!
For more information about other light workers, light resources, and light tools, see the navigation over to your left. Or learn more about the Perpetual Light Fund.
Potential Light Fund Recipients, keep sending your info. You may be next!
Christopher
Copyright Christopher Westra