Perpetual Light Fund Winner 44
Emmanuel, Winner of the $100 Microenterprise Fund (December 2009)
This Light Award is sponsored by Divorce Mediation of Utah and processed through Kiva.org.
Emmanuel Hicuburundi is a 53-year old entrepreneur who lives in the Cibitoke neighborhood of Mairie de Bujumbura. He purchases fabrics to make different types of outfits from and sells the outfits the Centeral Market of Bujumbura. He has been in this business for 25 years. He has finished middle school. He is now on his seventh group loan with Turam.

He is the father of seven children. He is seeking a loan from Kiva to boost his capital in order to purchase more cloth for outfits to be sold and thus to grow his savings. He prefers to take out a loan from Turame since the income made possible through this income allows him to provide for his family, including the payment of his children's school fees. He belongs to the "Umugisha" community group.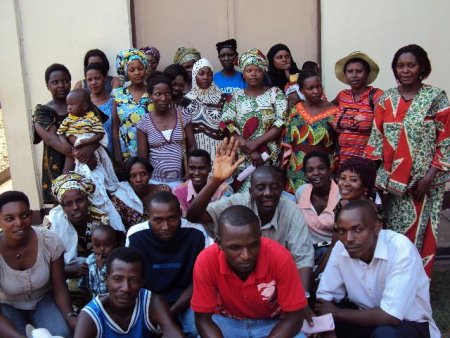 In this Group: Emmanuel Hicuburundi, Clotilde Bahibitugu, Revocate Niyongere, Bibiche Nshimirimana, Juvenal Karikurubu, Fostine Ndimurukundo, Signoline Ndayiragije*, Albert Misago, Aline Ahishakiye, Jean Kabahizi, Elizabeth Ntimpirangeza*, Amisa Mfatanduwayo, Annonciate Tuyisabe, Zainabu Kamikazi, M Justine Bukuru, Aline Manirakoze, Rosette Nshimirimana, Marie Rose Nahimana, Rosalie Ndayizigiye, Sylvestre Ndikuriyo, Alice Twagirayezu, Alice Nzeyimana, Yvette Shurweryimana, Rosette Kigeme, Marlene Uwimana, Eric Musavyimana, Angelique Kwizera*, Estella Gapfasoni, Victoire Nduhiye, Mediatrice Nimbona*
* not pictured
Congratulations to Emmanuel.
For more information about other light workers, light resources, and light tools, see the navigation over to your left. Or learn more about the Perpetual Light Fund.
Potential Light Fund Recipients, keep sending your info. You may be next!
Christopher
Copyright Christopher Westra