Perpetual Light Fund Winner 39
Mrs. Nem Kit, Winner of the $100 Microenterprise Fund (July 2009)
This Light Award is sponsored by the Free Science of Getting Rich Audio and processed through Kiva.org.
Mrs. Nem Kit and her husband, Mr. Pann Mean (pictured together), live in a small village located approximately 15 kilometers from Phnom Penh City. They have been married since 1971 and have six children: three sons and three daughters. Three of their children are married and live in separate homes; one son is a fisherman, one drives a horse cart and one attends school.
Nem has been selling fish for more than ten years. Her husband has been driving a horse cart for more than five years. She is requesting a loan of $1,000 to purchase fishing nets for her son who is a fisherman.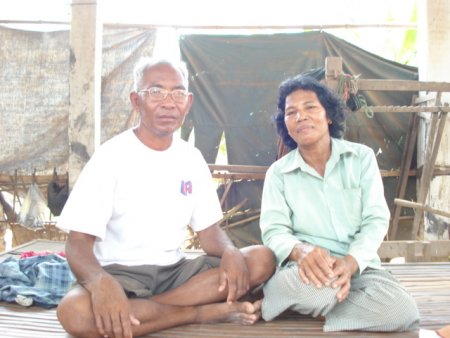 Congratulations to Mrs. Nem Kit!
For more information about other light workers, light resources, and light tools, see the navigation over to your left. Or learn more about the Perpetual Light Fund.
Potential Light Fund Recipients, keep sending your info. You may be next!
Christopher
Copyright Christopher Westra