Perpetual Light Fund Winner 33
Jim Humble, Winner of the $100 Microenterprise Fund (January 2009)
This Light Award is sponsored by HealFromLyme.com.
Jim Humble is the inventor of MMS (Miracle Mineral Supplement) and has helped to cure thousands of Malaria in Africa. I'm trying this miracle to cure my Lyme Disease.
You can read his book about the Miracle Mineral Supplement.
Read more about his experiences in Africa here: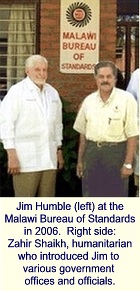 Congratulations to Jim!
For more information about other light workers, light resources, and light tools, see the navigation over to your left. Or learn more about the Perpetual Light Fund.
Potential Light Fund Recipients, keep sending your info. You may be next!
Christopher
Copyright Christopher Westra