Perpetual Light Fund Winner 32
Tep Choeun, Winner of the $100 Microenterprise Fund (December 2008)
This Light Award is sponsored by My Secrets of Success and processed through Kiva.org.
Tep Choeun is a 54-year-old farmer who lives in Pursat Province in Cambodia. Tep is married to Mr. Cheang, age 55, who works with her in their farming business.
They own and use a cultivating machine for farming and plow a nearby farmer's land for a fee.
There are many farmers who need their plowing services but they can't fulfill their needs because they only have one machine. To satisfy more customers, Tep would like a loan to purchase one more machine.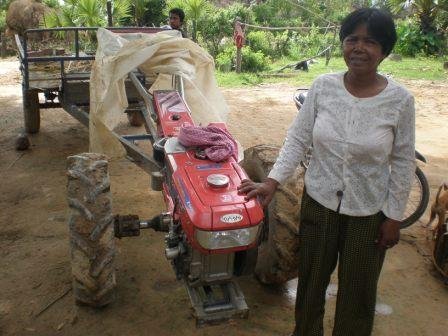 Congratulations to Tep!
For more information about other light workers, light resources, and light tools, see the navigation over to your left. Or learn more about the Perpetual Light Fund. Note - This loan was processed through Kiva.org.
Potential Light Fund Recipients, keep sending your info. You may be next!
Christopher
Copyright Christopher Westra