Perpetual Light Fund Winner 187
Priscilla, of Papua New Guinea, Winner of the $50 Microenterprise Fund (May 2019).
This Light Award is sponsored by Prosperity Poems for Abundance and Happiness (Christopher Westra) and processed through Kiva.org.
Priscilla's Story
Priscilla is 43 years old and has just begun her mini store business. She sells store goods such as rice, powdered milk, laundry detergent, tinned food, biscuits and cooking oil. She started her sales with just K80 and has managed to gradually grow.

The level of her stock depends on the purchases of the goods due to client demands. As seen, her mini goods store is moderately well-stocked; however, she does not buy in bulk wholesale but buys loose stock as and when it's needed. 

There is only one other person who is in competition with Priscilla's mini goods store and there is no other such place for a few hundred meters radius. There really isn't much competition.

The reason why the participant is applying for a loan is because she intends to purchase a gas stove (which has an oven) so that she can bake and add some variety to her mini good table sales.

She already has experience in baking and would like to increase her baking sales and also bake other products that can also increase her sales. She would like to sell baked goods on an everyday basis. The loan will cover costs for the gas stove, gas bottle and transport fee to her home.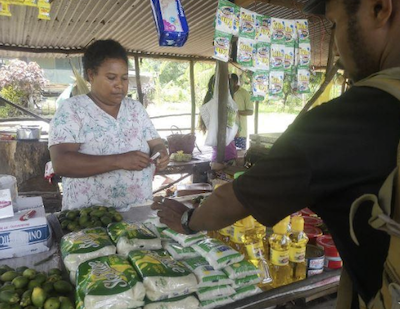 Congratulations to Priscilla in Papua New Guinea...!
For more information about other light workers, light resources, and light tools, see the navigation over to your left. Or learn more about the Perpetual Light Fund.
Also, get your Free Prosperity Poems from Christopher Westra - Read out Loud - Build Your Wealth
Check out Christopher's Prosperity Poems Patreon Page.
Christopher
Copyright Christopher Westra