Perpetual Light Fund Winner 186
Divino Nino Jesus Group, of Paraguay, Winner of the $50 Microenterprise Fund (May 2019).
This Light Award is sponsored by Prosperity Poems for Abundance and Happiness (Christopher Westra) and processed through Kiva.org.
Divino Nino Jesus Group's Story
The group Divino Niño Jesus [Divine Child Jesus] is a committee that is beginning its first cycle within Fundación Paraguaya. These ladies are very enterprising and committed to their group, themselves, and their families. They are self-sacrificing and know the requirements and coexistence that comes with being part of a women's committee. 

Clemenica is a member of the committee. She has a small store, and she also sells food that she makes herself. She says that she started with very little but today is known in her neighborhood for the good quality of everything she makes. Through her modest work, she has means so that her family lacks nothing and does not have to experience any unmet needs. 

She is requesting this loan to purchase products, such as milk, bread, eggs, and herbs, for her store and well as meats, empanada disks, and vegetables for making her foods.
In this group: Clemencia, Cynthia, Mirta, Elena, Mercedes, Catalina, Blanca, Cinthia, Gerónima, Mirian, Andrea, Dolly, Daysi, Diana, Emilce, Demetria, Johana, Romina, Yenni, Martha, Rossana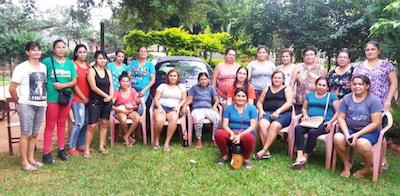 Congratulations to Divino Nini Jesus Group in Paraguay...!
For more information about other light workers, light resources, and light tools, see the navigation over to your left. Or learn more about the Perpetual Light Fund.
Also, get your Free Prosperity Poems from Christopher Westra - Read out Loud - Build Your Wealth
Check out Christopher's Prosperity Poems Patreon Page.
Christopher
Copyright Christopher Westra