Perpetual Light Fund Winner 184
Amy's Group, of Senegal , Winner of the $75 Microenterprise Fund (April 2019).
This Light Award is sponsored by Prosperity Poems for Wealth and Happiness (Christopher Westra) and processed through Kiva.org.
Amy's Group Story
This Banc Villageois opened in June 2007, bringing together these thirty women who live in the same village and are united by their values of kinship, neighborhood and solidarity. Their main occupation is trade. 

Mrs. Amy is the representative of the group, pictured on the far left of the photo with her hand half raised. She is a 64-year-old married mother of two children, a boy and a girl, who are of school age. 

Mrs. Amy sells hibiscus flowers and leaves to make herbal tea which she buys in the village and resells at a market in the capital. She has 12 years of experience in this occupation. 

With her loan, she will buy sacks of hibiscus flowers and 1 sack of leaves to make the herbal tea which she will resell at a good profit margin. 

With her profits she will strengthen her trade activity and her savings in the Banc Villageois.
In this group: Amy, Ndéye, Khady, Salimata, Mariétou, Awa, Astou, Mariama Ndébane, Oumy, Aminata, Oulèye, Madjiguène, Astou, Adama, Rokhaya, Khardiata, Khady, Khadidiatou, Astou, Khardiatou, Ngoné, Khady, Mariama, Ndéye, Mame Thioro, Awa, Aminata, Thioro, Astou, Khady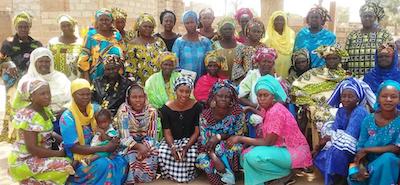 Congratulations to Amy's Group of Senegal...!
For more information about other light workers, light resources, and light tools, see the navigation over to your left. Or learn more about the Perpetual Light Fund.
Also, get your Free Prosperity Poems from Christopher Westra - Read out Loud - Build Your Wealth
Check out Christopher's Prosperity Poems Patreon Page.
Christopher
Copyright Christopher Westra