Perpetual Light Fund Winner 178
Ufundi Group, of the Congo, Winner of the $50 Microenterprise Fund (February 2019).
This Light Award is sponsored by Prosperity Poems for Wealth (Christopher Westra) and processed through Kiva.org.
Ufundi Group's Story
Madame Francine is a client of the MFI Hekima and is the representative of the banque villageoise Ufundi.

She is 48 years old, married, and the mother of eight children, all of whom go to school. She sells shoes at the central market in the city, with startup funding she received 10 years ago from her husband who is also a salesperson, and later Hekima followed.

With this loan, she will purchase three 50-kg bundles of secondhand shoes to strengthen her business. She plans to open a large store in the future so she can provide the same products as well as properly feed and school her children.

Madame Francine thanks Hekima and its partners for their financial support of vulnerable people.
In this group: Marie Jeanne, Ursule, Charline, Esther, Regine, Lugombo, Francine, Aimerance, Munyerekana, Furaha, Beatrice, Solange, Yvette, Cesarine, Apauline, Aimee, Joseline, Eliane, Melania, Pascasie, Anastasie, Elodie, Eliza, Viviane, Aimerance, Annuarite, Adolphine, Rosette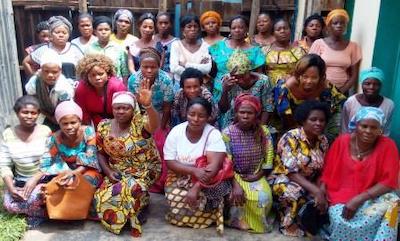 Congratulations to Ufundi Group from the Congo...!
For more information about other light workers, light resources, and light tools, see the navigation over to your left. Or learn more about the Perpetual Light Fund.
Also, get your Free Prosperity Poems to spread Prosperity Thinking to the Entire World!
Christopher
Copyright Christopher Westra