Perpetual Light Fund Winner 171
La Playa Group, of Peru, Winner of the $75 Microenterprise Fund (November 2018).
This Light Award is sponsored by Margies Messages and processed through Kiva.org.
La Playa Group's Story
The Communal Bank "La Playa" consists of eight hardworking and responsible members who are working in their fourth loan cycle. One of them is Sra. Eva. She is 53 years old, in a common-law relationship, and a mother of two children. Her older child is an independent adult and her younger child is still under her care because he has a disability and is not able to take care of himself. Eva has been dedicated to agriculture for about 20 years after she and partner were laid off from the company where they worked. She now has a parcel of land where she cultivates cacao and raises farm animals. Eva is requesting a loan so that she can invest in the maintenance of her crops and the renewal of her cacao trees. One of her dreams is to expand her crops and have more animals so that she can generate more income for her family. 

In the photo, Eva is wearing a jacket and grey pants. She is grateful to be participating in the "La Playa" Communal Bank and would like to thank the Kiva lenders for the support she has received.
In this group: Betty, Fiorela Cecila, Esperanza Rosalia, Eva, Isaac Isaias, Melvin Nils, Liset Guisela, Rossemery Magaly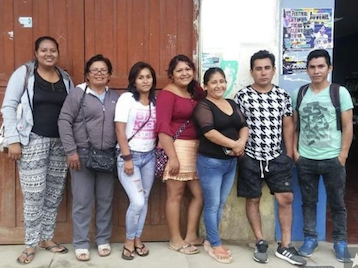 Congratulations to La Playa Group of Peru...!
For more information about other light workers, light resources, and light tools, see the navigation over to your left. Or learn more about the Perpetual Light Fund.
Learn more about Great Mind Power Books and start gaining Power into YOUR LIFE!
Potential Light Fund Recipients, keep sending your info. You may be next!
Christopher
Copyright Christopher Westra