Perpetual Light Fund Winner 169
Cristian Robert, of Peru, Winner of the $50 Microenterprise Fund (October 2018)
This Light Award is sponsored by Great Mind Power Books and processed through Kiva.org.
Cristian Robert's Story
Cristian, 33, lives in Acari with his wife and 2 children. He is a hard-working man who managed, with some effort, to open a fruit and vegetables sales business. He is applying for a loan that he will use to buy apples, oranges and other produce for resale, an investment that he expects will increase his sales. When we asked him about his hopes for the future, he told us that he would like to improve his house so that his family has a more comfortable place to live. He also hopes his children will get good educations so that they can go on to paid careers.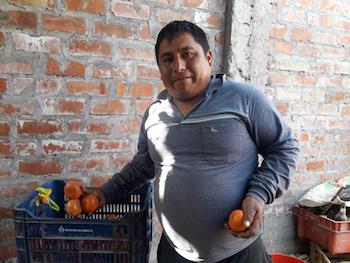 Congratulations to Cristian Robert of Peru...!
For more information about other light workers, light resources, and light tools, see the navigation over to your left. Or learn more about the Perpetual Light Fund.
Learn more about Great Mind Power Books and start gaining Power into YOUR LIFE!
Potential Light Fund Recipients, keep sending your info. You may be next!
Christopher
Copyright Christopher Westra