Perpetual Light Fund Winner 164
Ann, in Kenya, Winner of the $50 Microenterprise Fund (August 2018)
This Light Award is sponsored by Great Mind Power Books and processed through Kiva.org.
Ann's Story
She owns a small parcel of farm on which she has practiced mixed farming for ten years. This hardworking mother keeps dairy animals and poultry and grows maize and vegetables. She is very hardworking and determined to increase her farm's output. She is seeking a 160,000 KES loan through Juhudi Kilimo to buy land to expand her farm. 

Loans for smallholder farmers with little and irregular income and no solid collateral are hard to come by in Kenya. There are only a few organizations such as Juhudi Kilimo that support farmers like Ann. Juhudi facilitates loans that empower smallholder farming women, as it believes that women, too, are actively involved in agriculture. Juhudi Kilimo represents an opportunity for reducing poverty through income generation among smallholders. 

Through this loan Anna will be able to buy a piece of land that she will use in increasing her farm work which will translate to increased earnings and an improved living standard through paying tuition fees for her children.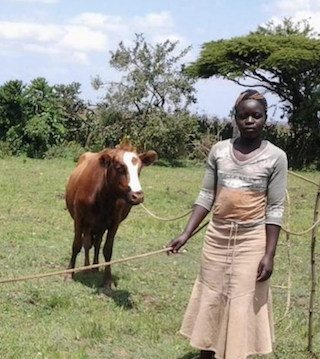 Congratulations to Ann in Kenya...!
For more information about other light workers, light resources, and light tools, see the navigation over to your left. Or learn more about the Perpetual Light Fund.
Learn more about Great Mind Power Books and start gaining Power into YOUR LIFE!
Potential Light Fund Recipients, keep sending your info. You may be next!
Christopher
Copyright Christopher Westra