Perpetual Light Fund Winner 161
Hopley Ladies Group, in Zimbabwe, Winner of the $50 Microenterprise Fund (June 2018)
This Light Award is sponsored by Great Mind Power Books and processed through Kiva.org.
Hopley Ladies Group's Story
Residing in Hopley, Waterfalls in Harare is a 64-year-old widow who possesses good entrepreneurial skills. Her name is Christina, and she is a proud mother of six children and grandmother of many. She got her start-up capital from the rental income she gets every month from her tenants. She has more than 25 years of experience running her fruit-and-vegetable stall at Tariro Township. Her stall has enabled her to open up a tuck shop.

She is a hard-working old woman who never rests and believes in her entrepreneurial capabilities. Through hard work and sheer determination, she has made herself self- sustainable. Christina dedicates her precious time to her business and spends the whole day at her stall and tuck shop storekeeping and restocking. Her two grandchildren help her out. Her good customer services have made her gain more customers. She sells a variety of fruits and vegetables at her stall that she restocks daily from markets in Mbare and Highfields.

After hearing of loans offered by Thrive Microfinance, she formed a group together with her two friends, which they named "Hopley Ladies", and approached Thrive Microfinance for credit and training. She used her share of the loan to restock groceries for her tuck shop as well as fruits and vegetables for her stall.
In this group: Illeen, Christina, Philadelphia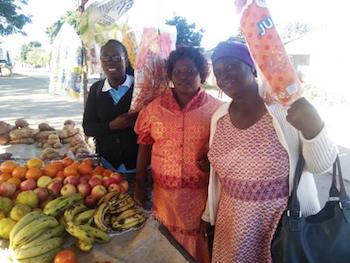 Congratulations to Hopley Ladies Group in Zimbabwe...!
For more information about other light workers, light resources, and light tools, see the navigation over to your left. Or learn more about the Perpetual Light Fund.
Learn more about Great Mind Power Books and start gaining Power into YOUR LIFE!
Potential Light Fund Recipients, keep sending your info. You may be next!
Christopher
Copyright Christopher Westra