Perpetual Light Fund Winner 120
Ha Ntaja Group, of Lesotho, Winner of the $50 Microenterprise Fund (December 2015)
This Light Award is sponsored by Great Mind Power Books and processed through Kiva.org.
Mantja is a 78-year-old mother of six children aged between 35-47 years. She not only takes care of her children but has to take care of her three young grandchildren aged 7, 5 and 4 who have lost both their parents. Mantja lives in a traditional hut that is not well ventilated, nor warms up well in winter. She works long hours to ensure there is enough food for her children and grandchildren, some of whom are going to school and only help her in the field on Saturdays and Sundays. She has to wake up very early, between 3 a.m. and 4 a.m., during the week to start preparing the fire for cooking breakfast, heating water and warming the house for all the children before they go to school.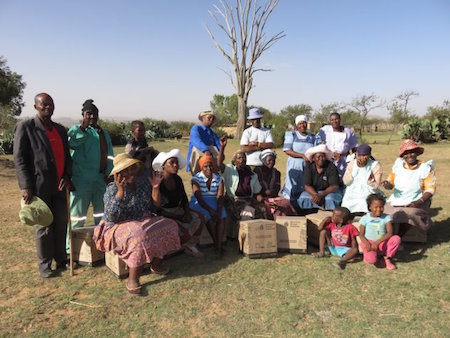 Collecting firewood, setting up the fire and doing the actual cooking demands a lot of her time. Temperatures in the Lesotho highlands are never really high; winters can get very cold and often Mantja has to start the fire inside her hut. Starting a fire releases smog and smoke which when inhaled in large quantities over a period of time can lead to lung diseases, eye problems and in the worst case, to death. In these circumstances, life for women like Mantja has been very difficult. Mantja has requested a loan from Kiva lenders in order to be able to purchase clean cook stoves which provide Mantja and nine other people from her village, who are living in the same circumstances, the chance of cooking in a way that does not harm them and their families, and that does not require a lot of wood, which is hard to find in Lesotho, nor expensive paraffin and gas.
This stove can be started with the use of very little, readily available biomass like dry twigs and dry cow dung that do not require lengths of time to collect. It does not produce smoke while burning, thus making it safe to be used inside the homes. This stove comes with a solar panel for charging the battery which runs the fan in the stove, a USB port for charging phones and a mini LED lamp. A life-improving package for these women. This stove saves them time to be with their family, saves energy, eliminates the element of toxic inhalation, house burning and has given them the freedom to have a better-lit home to see better in the evening while cooking, and enables children to do their homework. For stove info please check African Clean Energy.
Congratulations to the Ha Ntaja Group in Lesotho!
For more information about other light workers, light resources, and light tools, see the navigation over to your left. Or learn more about the Perpetual Light Fund.
Learn more about Great Mind Power Books and start gaining Power into YOUR LIFE!
Potential Light Fund Recipients, keep sending your info. You may be next!
Christopher
Copyright Christopher Westra