Perpetual Light Fund Winner 118
Eliane Mariano, of Madagascar, Winner of the $50 Microenterprise Fund (October 2015)
This Light Award is sponsored by Great Mind Power Books and processed through Kiva.org.
At the age of 39 and divorced for eight years now, Éliane is the mother of two children aged 15 and 18. She is the one who asked for the separation, since her ex-husband is very violent, an alcoholic, and has children with other women. For that reason, since the separation she has had to raise her two children alone and had to find a money-earning business whereas before she stayed at home and kept house.

In 2008 she started a little snack bar with her meager savings and a loan from CEFOR. Then she tried to develop and expand this business little by little, day after day. And now her shop has developed into what you see in the photo.

Éliane is a courageous, hard-working and resourceful woman with perseverance. She plans to sell used clothing as well, in front of the shop and she will start that with the loan.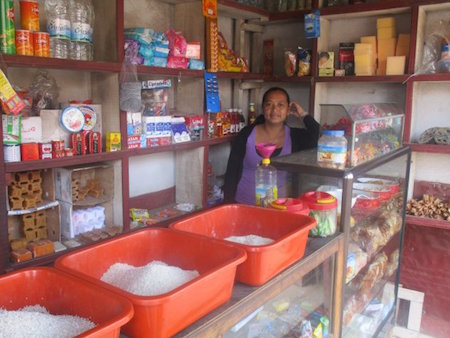 Congratulations to Eliane in Madagascar!
For more information about other light workers, light resources, and light tools, see the navigation over to your left. Or learn more about the Perpetual Light Fund.
Learn more about Great Mind Power Books and start gaining Power into YOUR LIFE!
Potential Light Fund Recipients, keep sending your info. You may be next!
Christopher
Copyright Christopher Westra