Perpetual Light Fund Winner 105
Sagrada Familia Group, of Paraguay, Winner of the $50 Microenterprise Fund (January 2015)
This Light Award is sponsored by Setting Goals Online and processed through Kiva.org.
The Sagrada Familia Group is in its 6th loan cycle of the women's communal bank program. The members are from the city of Concepcion, and live some distance from the central area, in an area that is still growing. It is an area that is somewhat hard to get to, so the members of this group want to strive to grow gradually, give the area where they live a better environment and see it grow slowly.

De Las Nieves is one of the members. She has a place for holding social events and rents out inflatable play structures, clowns and decorations.

She also goes out to sell lingerie and silver jewelry. She is a very hard-working woman who strives to be able to provide her family with everything she was not able to have, and that way help them avoid the hardships that she had to experience.

She is requesting this loan in order to purchase tables, cutlery, chairs and other items, so that she can continue with her rentals, and with this continue providing her family with what they need.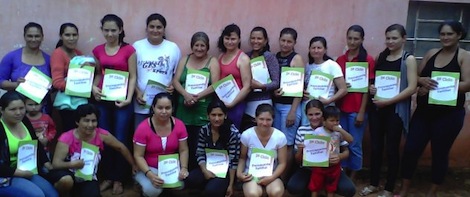 Congratulations to The Sagrada Familia Group in Paraguay..!
For more information about other light workers, light resources, and light tools, see the navigation over to your left. Or learn more about the Perpetual Light Fund.
Learn more about Great Mind Power Books and start gaining Power into YOUR LIFE!
Potential Light Fund Recipients, keep sending your info. You may be next!
Christopher
Copyright Christopher Westra