Perpetual Light Fund Winner 10
Elijah and Tabitha Kaneshiro, Tenth Winners of the $100 Microenterprise Fund (March 2007)
This Light Award is sponsored by LivingBabies.com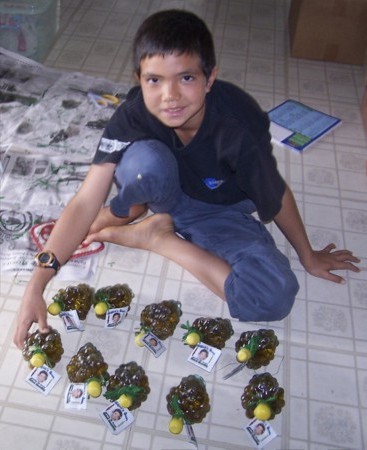 When Elijah was eight years old, he developed a salad dressing recipe that doubled his family's salad consumption. He served it to everyone who dined at their home. For two years he heard numerous people tell him his dressing was so good that he ought to market it. When he was ten, he decided they were right. He told his mother he wanted his salad dressing to be sold in the store.
They contacted the local commercial kitchen to see if they could provide any assistance and direction. Elijah got an appointment with the chef and was told to bring a sample and the recipe. The chef looked at the recipe and asked where they got their raw honey supply. They said they ordered it from another of the Hawaiian islands. The chef then told them that their own island (Molokai) was at one time responsible for producing the largest amount of honey exported in the world.
This was amazing as there was no commercial honey production on their island at that time. He also told them of the gourmet honey that came from the kiawe trees on the island and suggested someone start the honey production on Molokai again. In the meantime, he tested the shelf life of the salad dressing, and Elijah's family decided to resurrect the production of gourmet kiawe honey on Molokai.
This meant Elijah would have to be patient until the
family's honey business
could establish itself and produce enough of the premium honey to supply Elijah's salad dressing demands. In the Fall of 2006, Elijah debuted his salad dressing as well as comb honey from his own bee hives at the local food and beverage expo. It was a hit!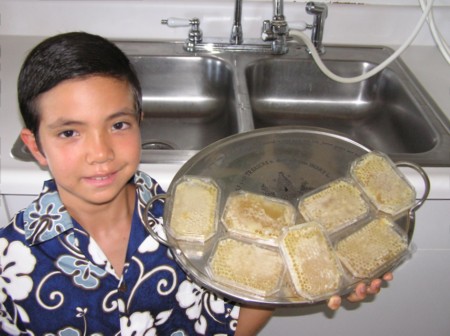 Now at thirteen years old, Elijah has outlets for his salad dressing on two islands with mainland vendors waiting until his business can supply their demand. One 7.5 ounce bottle of "Elijah's Best" brand salad dressing contained in an attractive glass bottle of clustered grapes sells in the local store for about $14.00. He wouldn't settle for any ordinary bottle because "My salad dressing isn't ordinary, it's special," Elijah commented. Apparently many others agree.
Now for Elijah's sister Tabitha and her business!
Tabitha has had an entrepreneurial spirit from the beginning. She began by sewing baby quilts from Hawaiian print fabric with the help of her mother when she was 5 years old. Later as the family's honey business developed into a busy family operation, Tabitha had less time for sewing. She and her two younger sisters enjoy working with the family in their business along with their big brother.
A natural by-product of honey harvesting is the wax covering the bees use to seal every cell of honey when it's ready to harvest. The family opens each cell by using a knife or special fork to remove the wax cover. This wax is set aside to allow the honey to drain from it. Tabitha began melting this wax with a solar wax melter and using it to make candles when she was nine years old. Pure beeswax candles are delightful as the natural fragrance of the wax with a hint of honey comes out in the burning.
Tabitha's wax was certified organic last Fall just as she was getting started with her business, Tabitha's Treasures. She makes hand-dipped taper candles that are dipped more than sixty times to get their smooth seamless texture. Tabitha also makes poured candles in small glass containers that she decorates with a single dried lavender flower tied with raffia.
Her products are all natural with no coloring or scent added. All of her candles are made with lead-free cotton wicks. She is also in the process of perfecting her own formula for warm-water surfboard wax. She uses natural and organic ingredients and will provide this first-of-its-kind product for sale later this Spring. It is currently being tested by the Lifeguard Lieutenant at Ala Moana Beach Park near Waikiki.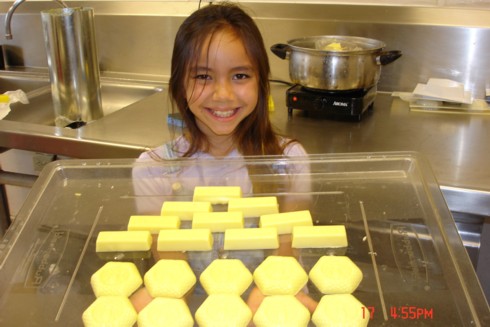 This part of her business also helps support family businesses in third world countries as she buys her coconut oil from families in Kenya. Tabitha's products are seasonal just as the honey production. When it rains, it pours wax for Tabitha; but when the bees take a break from honey production, she takes a break from her beeswax products.
When asked to compare her candles to others out there, she says, "For one thing, they're pure beeswax, and for another they're organic. They're all made by hand, and that makes them special."
Congratulations to Elijah and Tabitha!
For more information about other light workers, light resources, and light tools, see the navigation over to your left. Or learn more about the Perpetual Light Fund.
Potential Light Fund Recipients, keep sending your info. You may be next!
Christopher
Copyright Christopher Westra